The imitation handmade bean hull machine can be used in one machine!
Don't you know, our Qingzhou Jinfuwang Food Machinery Co., Ltd.Imitation handmade bean hull machineIt can be used in one machine! No matter it is thin tofu skin or thick tofu skin, it can be adjusted to produce freely. The supporting equipment of imitation hand-made tofu skin machine includes brain barrel, forming machine and leather pressing machine. The design is also very new, let's briefly introduce it below: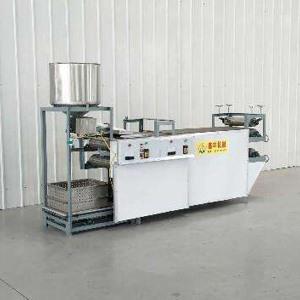 ①Cone-shaped barrel: you can directly point the brain in the barrel, and there is a brain mouth at the bottom. After the brain is completed, you can directly draw it into the molding machine;
② CNC panel: digital operation, convenient and simple data accurate, one person can operate;
③Single-layer cloth folding: Imitating the manual production process, the single-layer cloth is folded, the speed of the cloth is automatically adjusted, and the thickness of the tofu skin is the same;
④Automatic cloth loading: The cloth wraps down automatically, automatically adjusts the ups and downs of the cloth after splashing, and the speed can be adjusted.
⑤ Air pressure suppression: automatic lifting, pressing time and pressing interval can be set. After setting, you can do other things with high efficiency.
The imitation handmade bean hull machine is made of stainless steel, which strictly controls the quality of the machine. The machine is resistant to high temperature and corrosion and has a long service life. The whole production line of imitation handmade soybean hull machine is 1-2 people, the machine replaces manual production, saving effort and effort; The requirements are not large, which can save cost and investment. Manufacturers are available from stock, users are welcome to come to the factory to inspect the machine and learn technology.
Qingzhou Jinfuwang Food Machinery Co., Ltd. is a manufacturer with many years of experience in producing hand-made bean hull machine. It integrates R & D, design, production and sales. The equipments such as leather machines and soy products have won a good reputation in the market with quality, and have been favored and praised by the market and consumers. After that, our factory is responsible for guiding the installation, and guiding the solution of the problems, so that customers can buy at ease and rest assured. With a warm attitude, we look forward to the visit and cooperation of our customers and friends to create a better future!