Why are small tofu machines popular?
  1. Easy to use: It takes only 25 minutes to enter and exit the finished product from soybean raw materials with a small tofu machine.
  2. Multi-function machine: A small-sized tofu machine can simultaneously produce soy products such as soy milk, bean curd, and a variety of tofu. Using other equipment and technology, more soybean products can be produced.
  3. Automation: Adopt an automatic control system, the processing process is fully automated, no manual operation is required, and other people 's workshops are reported, so it is called automatic tofu machine equipment.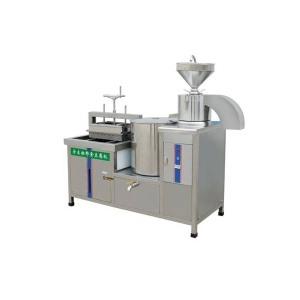 Qingzhou Jinfuwang Food Machinery Co., Ltd. takes the service concept of "construction project and create new image" as its own responsibility, relying on the company's own strength, relying on industry experience and wisdom, and actively providing excellent soybean product equipment. Provide a reference for the transformation of the old factory, formulate a rectification plan, and provide a reasonable configuration of equipment for the new factory. Follow-up service for workshop layout and technical guidance.
Qingzhou Jinfuwang Food Machinery Co., Ltd. combines management experience with a research-oriented and communication-oriented development model. Established a perfect market research, feasibility demonstration, product development, product promotion, technology tracking service system, while pursuing customer satisfaction, and establishing friendly and mutually beneficial cooperative relations with customers. Now we have a R & D and sales team. The transformation of small-sized tofu machines from a single type to a composite type has gradually formed the R & D and production capacity of launching new products and technologies every year. With technology and good reputation, we have created excellent products and services in the world.